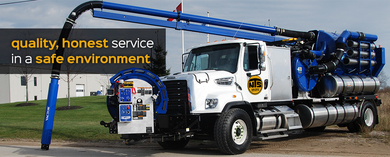 Hydro Excavation has a much smaller footprint than traditional excavation methods.
Request a quote 

Uses high pressure water to cut through soil and soften debris which then gets vacuumed up.  The procedure allows maximum excavation on a specific location with much less chance of damage to under ground infrastructure than other methods of excavation.
The boom allows you to reach over fences and other obstacles without needing to remove them.
There are many uses for Hydro Excavation.