NovaForm is a thermoplastic and seamless Fold-and-Form liner that is manufactured in Canada and used for trenchless (no-dig) rehabilitation of wastewater pipelines. This factory made technology liner is softened by steam, folded and winched through the host pipe (manhole to manhole) and expanded, using heat and pressure, to the interior shape of the existing host pipe. 
Municipalities benefit from having new structural liner installed which is equivalent to DR 35 and DR 41 without having to disturb local residents and business by avoiding the traditional open-cut methods.  A perfect solution for corroded and cracked sanitary sewers to corrugated steel pipes in need of structural repairs.

PVC Fold and Form liners are structural, tight fit liner resistant to gases, chemicals, and corrosion. 
PVC Fold-and-Form is manufactured in strict accordance with the ASTM F1871 standard. These measures ensure a consistent final product for the end user.
It's an environmental friendly trenchless technology which is odourless and it does not require any mixing of resins during the installation process. 
How it's done.
| | | | | |
| --- | --- | --- | --- | --- |
| Liner is pulled into the pipe | | Once inserted the liner is heated and expanded into place using steam and air |   |   |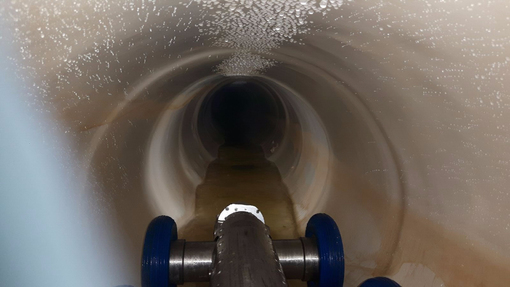 After installation the work is inspected